CES Training with Accomplished NY Chiefs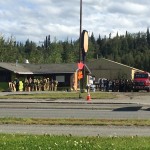 What looks like a commotion at the old Pye'Wackets building is just Central Emergency Services training.
Brad Nelson with CES said two New York Instructors, Bob Pressler and Mike Lombardo , have been showing our local Emergency teams new techniques.
Nelson: "Yesterday they did a classroom company officer training for all of us, myself, the training officer, all of the captains, the latest and greatest, ya know the guys from the big city kind of thing, their latest and greatest tricks of the trade. Today they are out there doing search techniques, locating people and different entries into the old Pye'Wackets building, the contractors and owners have been good enough to let us go in there and use the building since it's an unfamiliar building."
He added that using an unfamiliar building as opposed to their usual training buildings is more like real life.
The training will continue with the New York Chiefs tomorrow where CES will be at their new training site on Arc Lake Loop working with different techniques and live fire exercises.